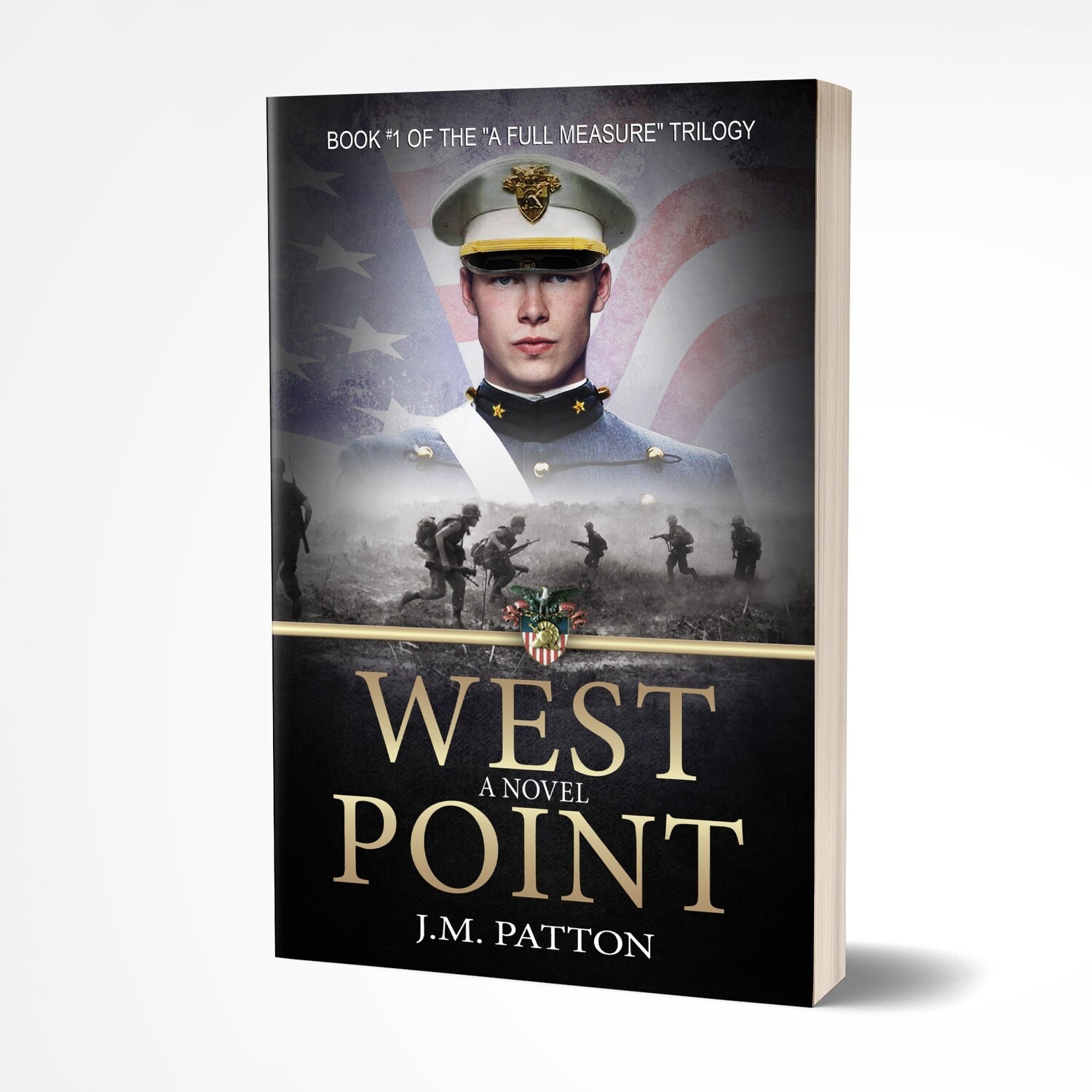 West Point: A Novel - Paperback
SKU PA34773
Product Details
Available now in paperback and eBook!

The A Full Measure trilogy is a tale of honorable military commitment, love, and conflict for those reconstructing the U.S. military in the last days of the Vietnam War and the decades following as terrorism redefined enemies foreign and domestic. The setting brings to life the turmoil that a military member faced by his civilian peers in a hostile antiwar environment, and the evolution of a current-day mission.

West Point—Book #1 in the trilogy—takes the reader to the United States Military Academy (USMA) to step into the humor and heartbreak of the daily life that slowly develops the panache of a West Point leader of the Vietnam Era. Of the same development came the likes of Lee, Jackson, Grant, Eisenhower, MacArthur, Bradley, Patton, Schwarzkopf, and many more from the ranks of the Long Gray Line. Graduates receive their degree, but unlike a college, there is but one mission, and that mission is to produce outstanding officers in the combat arms.
John Paul "Jake" Jacobs and Patrick McSwain building an unbreakable bond as they overcome the challenges of West Point. Anyone who, even briefly, considered attending one of the service academies, or one even remotely connected to the military, will enjoy this captivating read. The reader is likely to laugh, be exhilarated by the tale, and maybe shed a tear or two.
.
Reviews - In Praise of West Point

A Highly Recommended Read!
This book is an appealing tale of military service during a very trying time in our national history, whose characters have real-life authenticity. A highly recommended read! — Mike Herbert, Captain USN (Ret)
.
Enjoyable, informative, humorous, & true to life…
J.M. Patton, the author, has a remarkable gift for expressing the emotions we all experience in life. West Point has all the qualities of a good read; it is enjoyable, informative, humorous, and true to life. — Col. L.D. Swift, PhD, Professor of Physics, NMMI, Emeritus
Captivating!
Exceptional Story! Captivating! Outstanding beginning at The United States Military Academy and a look at cadet life and it only got better from there! And, a great insight into the world of terrorism and international intrigue! I could not put it down. So good, I took it with traveling to New York City and finished it on a cruise! — Steve Foust, Master Sergeant USAF (Ret)
.
Intrigue and mystery throughout...
West Point was a book I continued to enjoy more and more as I read. The writing became more intriguing as the characters developed and the story unfolded. The characters peaked intrigue and mystery throughout and the book was very entertaining. Fantastic read that made me feel as if I "know" the characters. — Marlie Echavarrri Ball, Manager, J.B. Hunt
.
I'm hooked...
Just finished reading Book 1, "West Point," and must say I'm hooked and can't wait for Books 2 and 3!! It kept my interest, making it hard to put down. Serious, humorous, and emotional. Great read!! The main characters; Jake, Sara, Steve, Patrick and all, are believable and very interesting. The Academy Life descriptions are excellent and truly depict Military Academy life. Also, the author's insertion of the despicable terrorist character into the story is masterful and I'm really intrigued with how he will fit into the next book. All in all, I really enjoyed Book 1 "West Point." and anxiously await the next two books in the A Full Measure trilogy. — John Barrett, Chief Master Sergeant USAF (Ret)
.
A remarkably open and credible account...
Patton gives a remarkably open and credible account of what life at a military school must be. Not only does he capture the daily life of a cadet, but he also details the ethos these institutions instill in young men and women willing to serve our country in the military. — Greg Graves, Reviewer
.
Paints a vivid image of Cadet life...
This novel not only shines a light on a unique collegiate experience as a cadet at the United States Military Academy (USMA) but also the complexities of American society in the 1960s. Beyond that, each character keeps you fully engaged with their individual stories. The way the author masterfully ties the stories of the characters together into a single narrative is spectacular. From the well-recounted details of Beast Barracks, the academic rigors coupled with spartan living conditions, to the fury of Cadet boxing and Recondo, this novel paints a vivid image of Cadet life. If that was not enough— there is a thoughtful dive into the various characters representing a new age in a society where older ideals begin to clash with new ideals fueled by a generation living under constant fear of the climatic end expected of the Cold War era. All this will certainly appeal to readers.
West Point will leave you excited to read books #2 and #3, and further explorations into a unique transitional period in American culture centered around an institution that seemingly holds true to its principles even through cultural shifts. — Trae Wolfe, 1LT U.S. Army, USMA Class of 2016
.
A thought-provoking story...
Patton writes a thought-provoking story of young West Point cadet John Paul "Jake" Jacobs in his novel West Point, Book I of the trilogy A Full Measure. Set during the turbulent years of the Vietnam War and U.S. social unrest, this historical fiction fascinates informs, often amuses, and ultimately draws the reader in for a saga rich with characters, history, and intrigue. Readers won't be disappointed, and will, like myself, anxiously await the next book in this compelling trilogy! — Sandy Lyons, Teacher: English, Literature
.
Patton paints the environment amazingly!
This is bringing back all kinds of memories of being an OTS instructor at Maxwell AFB… It reminds me that the services aren't really all that different. The training sucks everywhere! Patton paints that environment amazingly! — Travis Rush, Major, USAF
.
It was riveting!
I don't usually read military-oriented fiction but was told by a friend, "You have to read this (West Point). You're going to love it." So, with some prejudice, I began reading the novel and was immediately hooked. I was enthralled with the author's writing, which took me through a full range of emotions, from awe to sadness to laughter, and suspense. It was riveting! — Mona Niland, Reviewer
.
You won't be able to put it down...
Patton's storytelling has captivated me since I was a kid. His writings are addictive.You won't be able to put them down. An amazing author, mentor, and friend! — Joe Ben Snipes, Major, U.S. Army
Save this product for later